If you're looking to whiten your smile and let the new you shine, the question you're probably most curious about is the cost. Depending on your situation, there are a number of different routes you could take towards having a brighter smile. Each option varies in overall price and affordability. Luckily for you, we've listed them all for you here. No matter your situation, you can find the right whitening process that fits your budget and grants your wish for dramatically whiter teeth.
How Much Does Teeth Whitening Cost?
| Type of Teeth Whitening | Cost |
| --- | --- |
| In-Office Teeth Whitening | $650 on average |
| Dentist Take Home Trays | $400 on average |
| At-Home Teeth Whitening Products | $100 or less |
| DIY Natural Whitening Methods* | $10 - $20 |
*Note that user experience with Natural Whitening Methods varies greatly, and this article does not endorse any untested methods.
Laser Teeth Whitening
One of the most innovative methods for teeth whitening is becoming more and more popular with average Americans. Laser whitening is a quick and easy option without the hassle of strips, trays, or at-home application. However, most dental insurance programs do not offer coverage for laser whitening procedures. Since laser whitening is generally the most expensive method available, it can be a pricey procedure. Typically, the average cost of laser whitening in the U.S. is close to $1,500. If you're interested in this option, check with your insurance provider or dental professional. If you aren't covered for laser whitening, there may be a payment plan available to you to help cover the cost of the laser treatment.
In-Office Professional Dental Whitening
The next most expensive option is to visit your dentist for a traditional, in-office whitening. This is an easy procedure that can sometimes be covered by dental insurance when it qualifies as preventative care for larger issues. The price will vary, but you can expect to spend the same or slightly less than you would on an advanced laser procedure. You might spend anywhere from $200 - $1,000 depending on your dentist. Another option is to make the transition to a new dentist for your whitening and cleaning. Oftentimes, new dental offices or offices looking for new clients will offer free or reduced whitening to new sign on customers. If you're looking to change your dentist, or you've recently moved, try looking into what is being offered to new clients from dental offices in your area.
At-Home Teeth Whitening Systems
If you're uneasy about visiting the dentist or your insurance or budget is an inhibiting factor, then home treatments might be for you. Popular items include home whitening packs, whitening strips and pens that let you apply the whitening agent in the comfort of your own home. Instead of a few intense in-office appointments, these will often take you through a regimen of whitening over time. They are far more affordable, and at-home whitening is a simple process that produces real results.
Buy a Pearly Whites At-home Teeth whitenking kit online for $ 99.95 $ 1,190.95, that's $ -1,091 off.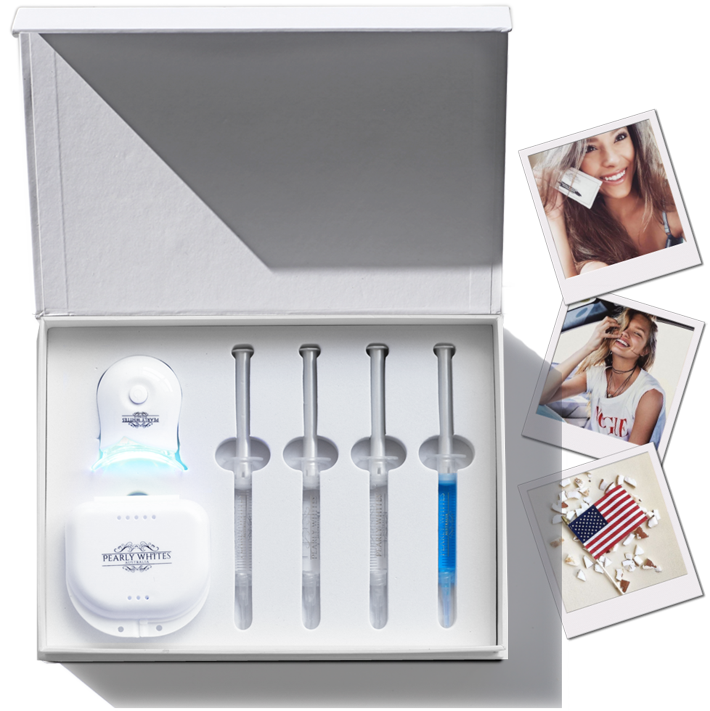 The Pearly Whites range includes LED whitening systems, whitening pens and coconut and charcoal strips, and are simple to use. The advantages being that you do the whitening on your own time and with budget friendly materials. Some dentists believe that at-home teeth whitening can actually be more effective on certain stains than an in-office procedure. You should consult with you dentist to see if this low cost option is right for you.
Whitening Trays
This is more of a midway option between the professional and at-home treatments because this procedure can be done in both places. Whether you are having a dental professional whiten your teeth in an afternoon, or using the trays at home over the period of a month or two, this method is an effective way to bring the brilliance back to your smile. The price can range from $100 to $500 depending on whether you use custom trays from your dentist or an at-home method. Either way, whitening trays are a bit more involved than using strips or pens. However, if your stains require an extra boost, this method is a strong contender in terms of effectiveness on stubborn stains and cost. Your dentist can help you decide if you should go with a custom tray treatment or try an at-home variation.
DIY Natural Whitening Methods
Some people with sensitive teeth or gums respond poorly to the whitening agents contained in most in-office and at-home teeth whitening procedures. If you're worried about the cost or the chemicals of the more advanced methods, there are a few natural ways to whiten your teeth as well. Besides simply cutting down on stain producing foods like coffee, wine, and soda; there are certain foods and natural items that can help. Coconut oil mouth rinses and brushing with baking soda are options some believe help fight stains and produce stronger enamel. Of course, you should be careful when trying any at home remedy and be sure to consult with a doctor, dentist, or natural health professional before proceeding. Natural options are likely to be the cheapest option available ($10 - $20), but may require more repeat usages than at-home whitening systems, and many of the popular 'home-remedies' touted online don't really work at all.
The teeth whitening solution you choose is completely up to you, and will probably depend on the budget you have as well how discolored your teeth actually are. Take the time to decide which option is best for your individual needs, and don't forget to consult your dentist, especially if you have any underlying oral health issues or sensitivity.
Click here
to see teeth whitening products from the Pearly Whites' range.