Have you heard about the activated charcoal teeth whitening craze? It is rapidly becoming one of the most popular ways to whiten teeth, but why? It seem counterintuitive, how can rubbing a black powder over your pearly whites actually take away stains instead of leaving them black as coal? People are often shocked when they first see activated charcoal being used in this way, but the truth is it has been a component of dental care for a lot longer than you think. Let's take a closer look at activated charcoal, how it might whiten your teeth, and everything else you need to know about this huge beauty trend.
What Is Activated Charcoal?
Don't just run out and get regular charcoal to start brushing with, activated charcoal is special and you need to get this variety to potentially reap the whitening benefits. According to WebMD, activated charcoal is formed after regular charcoal's surface area is expanded through a combination of increased heat and gas or some other activating agent. These complex chemical changes give you what is popularly known as activated charcoal.
The History Behind Activated Charcoal and Teeth Whitening
Charcoal has been significant for centuries, and has been used for everything from treating water to combating toxic poisonings. In fact, early versions of toothpaste including the one that the Romans used, often called for ground charcoal as one of the ingredients. While these uses were not specific to teeth whitening, they do prove that charcoal has been important to many societies for a very long time. It isn't surprising that people are still discovering new uses for it.
How Do People Whiten with Activated Charcoal?
Whitening with activated charcoal looks a little strange, which is probably why it has gotten so much attention on the web recently. You've probably scrolled through one of your social feeds and noticed a video of someone brushing their teeth with something black. That's how it looks when you brush with activated charcoal, like you are using a black toothpaste.
How to Brush Your Teeth with Activated Charcoal
First, obtain activated (not regular) charcoal that will be safe for you to brush your teeth with to get them white.

Then, get a special toothbrush that is just for your charcoal brushing.

Mix the powder with some water to make a paste, and put the paste on the brush.

Then, brush the paste on your teeth for a few minutes (typically just two or three).

Now comes a very important part, spit out the charcoal carefully. You don't want to get it all over your outfit or bathroom.

Then, rinse out your mouth with water and spit it out.
Repeat the rinse and spit steps several times until you do not see any more charcoal powder on your teeth, gums, or anywhere else in your mouth. Otherwise it might migrate back to your teeth making your smile look unappealing and black.
The Dentist Verdict on Activated Charcoal for Whitening
Dentist Joseph Banker told Prevention that it did look like it had improved the whiteness of his teeth, but he also noted it wasn't the neatest option. Blogger xoJane looked into the reason behind why activated charcoal seems to have a whitening effect, and her doctor Dr. Jessica Emery said it's because the activated charcoal is attracted to tannins. Tannins are those things that lurk in your favorite dark colored drinks and leave behind ugly stains on your teeth. So if you are seeing lots of tannin stains from drinking red wine or something similar, it stands to reason that activated charcoal brushing might be able to help.
The Non-Abrasive Alternative to Whitening with Activated Charcoal Powder
Not convinced that activated charcoal is right for you? Pearly Whites have developed new whitening strips that contain activated charcoal. Neat, tidy, easy to use and most importantly a gentle and non-abrasive alternative.
These are currently on special offer at $ 29.95 $ 370.95, a discount of $ -341.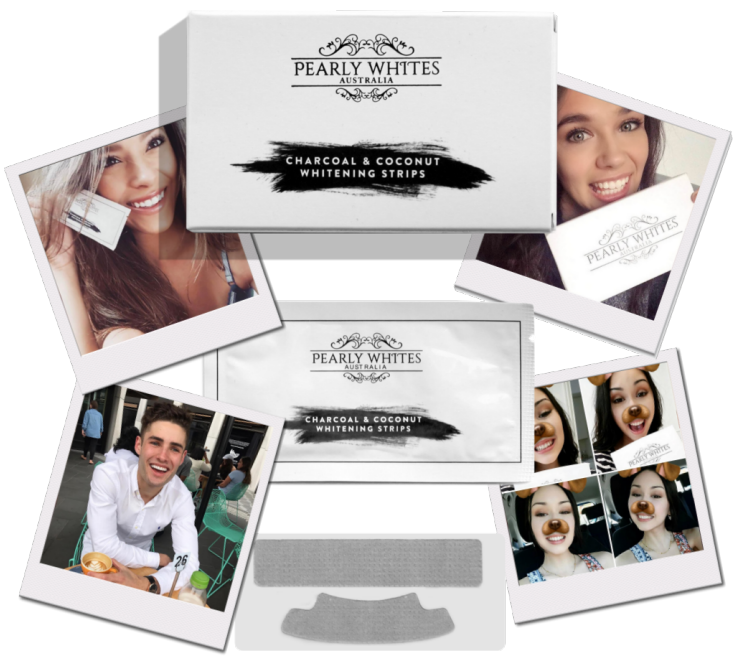 Specially formulated for people with sensitive teeth, these whitening strips have been infused with both the natural whitening power of activated charcoal and the antibacterial properties of coconut oil. They are not nearly as messy as brushing with charcoal, where the powder can get everywhere, not to mention how dark it is on your teeth while you use it. You have to be really careful and rinse thoroughly when you use activated charcoal to whiten your teeth. Otherwise you risk flashing people a smile that's covered in black paste, which pretty much defeats the purpose of whitening.
Whitening your teeth with activated charcoal is a natural way to get rid of some of the unsightly surface stains that might be lingering on your teeth. It is a trade-off, because the process can be a bit messy and has varying results depending on the person and how stained their teeth look when they start the process. Talk to your dentist and get their take on using activated charcoal in your whitening routine. It never hurts to ask!
Learn more about what your smile says about you and your health.