Want amazing, white teeth? You might think you need a celebrity dentist or tons of professional treatments to whiten your teeth. Guess what? You don't even have to leave your home to whiten your teeth. Follow this quick guide for ways to whiten your teeth in the comfort of your own home and you will have a brilliant smile in no time!
Your diet has a lot to do with how white your teeth look
Acidic foods can be bad for teeth - that morning glass of orange juice might be delicious, however, the acid in it might wear away the enamel on your teeth which can dull them. Acidic foods of all kinds take away the protective coating on your teeth, which is naturally a shade of off-white or white depending on the person. The more acidic foods you eat and drink, the faster the enamel will wear away.
Dark drinks can leave behind stains – coffee and tea are great ways to get a bit of caffeine or relax and unwind. Sadly, they are not great ways to keep your teeth white. Dark drinks can leave behind some pretty bad stains on your teeth. Some teas are naturally lighter, like white tea which is harvested earlier in the growing season and dried before the leaves get the chance to oxidize. Drinking a lighter colored tea can help reduce the chance you will want to hide your smile. Otherwise, grab a straw or switch to water when you need something to quench your thirst. Otherwise, you'll risk discoloring your teeth.
Heavily pigmented foods can discolor your teeth – some foods have the same staining properties as drinks. Have you ever checked out your smile after eating a piece of blueberry pie? Those blueberry stains are pretty prominent, right? They probably take a while for you to brush away as well. Even after they seem less noticeable, dark foods with lots of pigments can leave their mark. Eating these over time will create stains and discoloration that will dull your smile.
You can get some whitening help
Whitening your teeth at home is pretty easy these days. There are tons of whitening products out there that you can use to get the smile you want. Some whitening methods are even natural, giving you the option of using items you might already have at home to whiten your teeth. Here are some great whitening methods you can do in your own home:
Try coconut oil pulling – pulling is a fancy way of saying you move the oil around your mouth so that it coats your teeth. Since coconut oil is natural, you will not be using any bleaching agents to whiten your teeth. Move the oil across and around your teeth for a few minutes. Once you are done, spit the oil out. A lot of people use coconut oil to get healthier mouths and whiter teeth.
Use a whitening toothpaste – whiten your teeth while you brush! A lot of toothpaste brands are adding extra whitening power to their normal formulas. That way, customers can get a brighter smile while they get healthier teeth. You do not need to do anything special to get the benefits of whitening toothpaste. Just grab your toothbrush and put on the whitening toothpaste. Brush normally, and spit out the excess toothpaste. A lot of people use whitening toothpastes every day to make sure they have a stunning smile without needing to do any extra work.
Get a whitening kit – people love these kits because the whitening gel is placed in trays that fit over your teeth ensuring that the formula reaches all of your teeth. Some gel kits also come with a mini lamp that helps to activate the whitening ingredients in the formula. Once the time is up, take off the trays and follow the kit's instructions for how long you need to wait until your next treatment.
Use whitening strips – peel these little strips off of their plastic backing and place them snugly over your teeth. The side that goes against your teeth has safe but powerful bleaching agents that will remove the stains sitting on top of your teeth. Once the time is up (each whitening strip package tells you how long to leave them on) just peel the strips off of your upper and lower teeth and throw them away.
Get a great deal on our Coconut Oil and Activated Charcoal Infused Teeth Whitening Strips

now on sale at $ 29.95 $ 370.95, that's $ -341 off the normal price.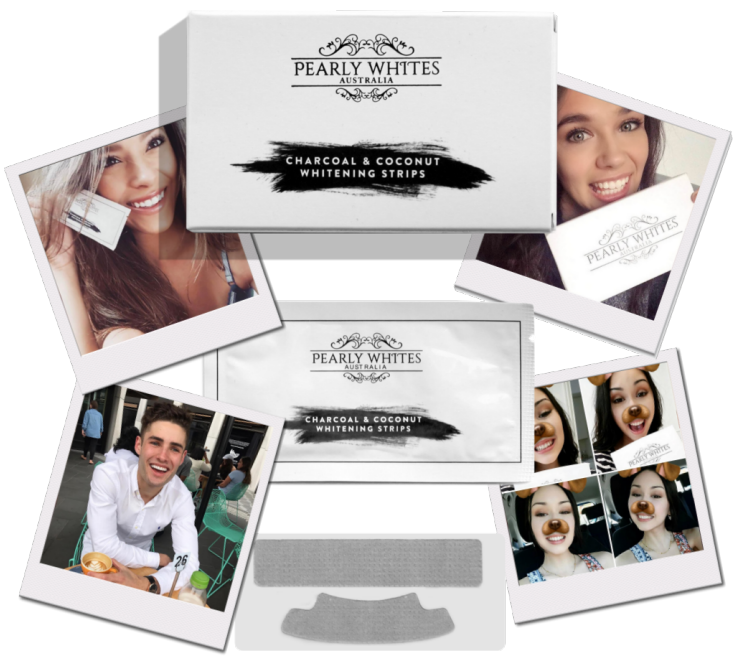 It is so simple to get a whiter smile without needing to leave home. Once you start paying more attention to your diet and incorporating a whitening method into your routine, you should start to see results. Check with your dentist and get their advice on your home whitening routine. They will probably have a favorite method or advice to help boost the power of your pearly whites. No matter which method you choose, these are the top 10 benefits of having whiter teeth.  No more excuses, whitening your teeth is as easy as 1,2,3!
best teeth whitening
how to whiten your teeth