PERFECT FOR PEOPLE WITH SENSITIVE TEETH
Coconut & Charcoal Whitening Strips
A natural way to get a Hollywood Smile

Coconut Oil and Activated Charcoal
Ideal for sensitive teeth
Safe and easy-to-use
$ 29.95 $ 380.95
$ -351 OFF OUR BEST-SELLING PRODUCT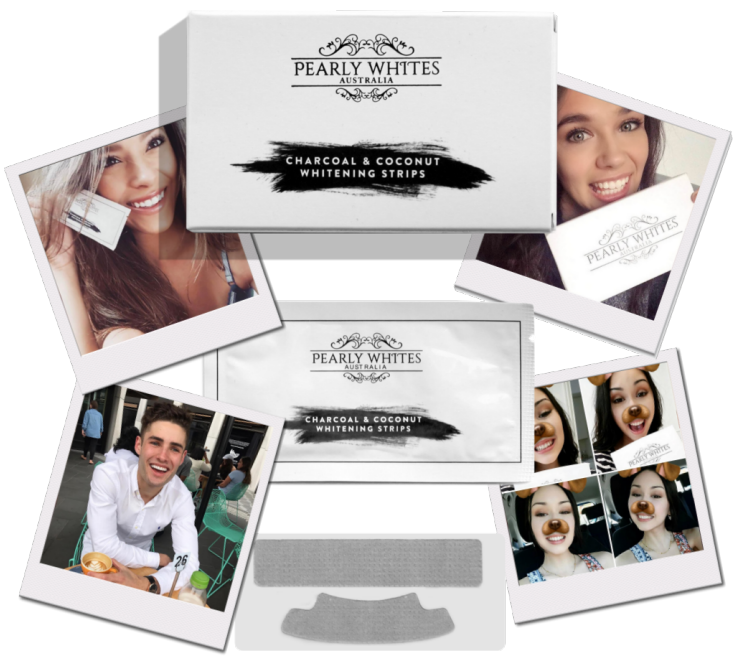 WHY USE PEARLY WHITES WHITENING STRIPS?
We've combined the natural whitening power of coconut oil and activated charcoal and infused it with our unique whitening formula for fast, no mess, pain free results. If you're looking for a more natural way to get a Hollywood celebrity smile, our Whitening Strips are the best choice.
FAST RESULTS

See improvements the same day, and get pearly whites within a week! Each box contains 10 pairs of whitening strips, and our customers see significant improvements within 3-5 applications.




HIGH QUALITY INGREDIENTS

We use a unique formula including natural Coconut Oil and Activated Charcoal to ensure you see significant changes in teeth colour.

EASY TO USE

The strips come in pairs for top and bottom rows of teeth, and are easy to apply and use.




SAFE AND EFFECTIVE

Formulated for people with sensitive teeth, these whitening strips have been infused with both the natural whitening power of activated charcoal and the antibacterial properties of coconut oil.
HOW DOES IT WORK?

TOP

Peel the longer strip from the backing liner and align it with the gumline of your top teeth.


BOTTOM

Repeat with the curved strip on your bottom set of teeth. Fold the rest of the strip over your teeth to keep it in place.


WHITEN

Keep on for 30-45 minutes, then them peel off and enjoy your Pearly White smile.
WHAT'S IN THE BOX?
10 x Pairs of Teeth Whitening Strips
SEE WHAT THEY HAVE TO SAY…
HAVE ANY QUESTIONS?
Sure you do. Here are some of the most common questions regarding our teeth whitening strips.
How long does it take to get results?
Just 45 minutes! However, you'll notice significant changes after 3 or 4 treatments.
How many treatments in each box?
There are 10 pairs of strips, so one box gives you 10 treatments.
Is it painful?
No, in fact these were designed for sensitive teeth.
Where do you ship to?
FREE SHIPPING is available within the USA. All orders are shipped from our Los Angeles warehouse. For Express and International orders click here.
See the full list of questions on our FAQ page.
Join thousands of Pearly Whites fans and get a brighter smile today!
COCONUT & CHARCOAL TEETH WHITENING STRIPS
$ 29.95 $ 380.95 - Order your kit now and save $ -351!