PROFESSIONAL TEETH WHITENING SYSTEM
THE SIMPLE WAY TO GET A
PEARLY WHITE SMILE AT HOME
See the difference in just 60 minutes

Fraction of dental whitening costs

Everything you need included

Safe and easy-to-use
$ 99.95 $ 1,290.95
$ -1,191 OFF OUR BEST-SELLING PRODUCT
SEE THEIR SMILES
WHY WHITEN WITH PEARLY WHITES?
We only use the highest grade, quality ingredients in our teeth whitening gel and take great pride in our fantastic reputation for outstanding results. The Pearly Whites Professional Kit contains everything you need to achieve the beautiful, pearly-white smile you've always wanted – at a fraction of the cost.
FAST RESULTS

See improvements the same day, and get pearly whites within a week! Our customers see significant improvements within 3-5 applications.




HIGH QUALITY INGREDIENTS

We use high-quality, dental-grade, 35% carbamide peroxide to ensure you see significant changes in teeth color.

EASY TO USE

Mould your mouth guards, add gel and use the LED light. Wait 45-60 minutes… it's that simple. Do it all in the comfort of your home!




SAFE AND PAIN FREE

Getting a great smile shouldn't be painful. The kit includes a Desensitization Gel that replaces minerals, seals your results and soothes after whitening.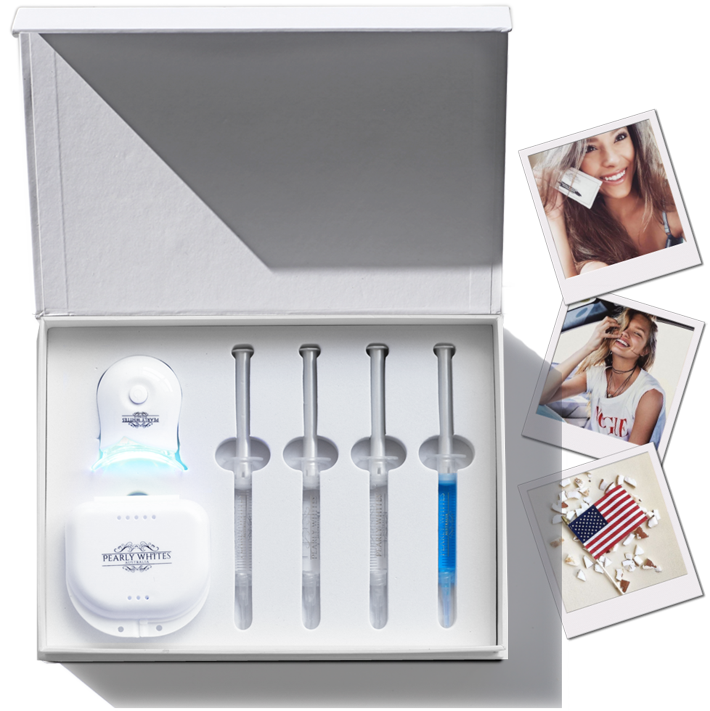 HOW DOES IT WORK?

MOLD

Soften the mouth guards in boiling water within seconds. Mold to your teeth.


APPLY

Place a small drop of whitening gel inside both mouth guards. Place the LED light under your lips.


WHITEN

Within 45 minutes you'll be on your way to pearly white teeth! Your kit contains enough for 12-15 treatments.
WHAT'S IN THE BOX?
3 x 3ml WHITENING GEL
35% carbamide peroxide (12-15 treatments)
1 x 3ml DESENSITIZATION GEL
replaces minerals, seals your results and soothes after whitening
2 x MOLDABLE TRAYS
for top and bottom teeth
1 x TRAY CASE
keep your re-usable whitening trays germ free and safe
1 x LED LIGHT
activates the whitening formula and speeds up the whitening process
1 x COLOR CHART
see the progress of your celebrity smile
1 x INSTRUCTION MANUAL
a full list of instructions for the best and safest whitening results
SEE WHAT THEY HAVE TO SAY…
HAVE ANY QUESTIONS?
Sure you do. Here are some of the most common questions regarding our professional teeth whitening system.
How long does it take to get results?
Just 45-60 minutes! However, you'll notice significant changes in 3-4 treatments.
How many treatments in each kit?
Each 3ml of whitening gel is enough for 4-5 treatments, so the Professional Kit gives you 12-15 treatments.
Is it painful?
With the desensitization gel and careful application, you shouldn't experience any pain.
Where do you ship to?
FREE SHIPPING is available within USA. For Express and International orders click here.
See the full list of questions on our FAQ page.
Join thousands of Pearly Whites fans and get a brighter smile today!
PROFESSIONAL TEETH WHITENING SYSTEM
SOLD OUT DUE TO HIGH DEMAND.  NEW STOCK COMING SOON!
$ 99.95 $ 1,290.95 - Order your kit now and save $ -1,191!